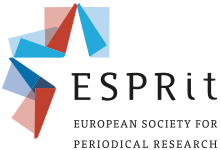 Periodical Counter Cultures: Tradition, Conformity, and Dissent 
CALL FOR PAPERS, deadline 25 January 2016
The 5th International Conference of the European Society for Periodical Research (ESPRit), www.espr-it.eu
7-8 July 2016
Liverpool John Moores University, UK
From the Black Dwarf to the little magazines of the European avant-gardes, from protest literature of the industrial revolution to the samizdat publications of the Soviet Bloc, from Punch to punk, periodical publications have long been associated with a challenge to dominant and mainstream culture. For ESPRit 2016 we return to this aspect of periodical culture, exploring the counter-cultural role of periodicals with particular emphasis on comparative and methodological points of view. Proposals are invited on topics that include, but are not limited to, the following areas:
Periodicals as sites for the genesis and dissemination of counter-cultural ideas, programmes, and manifestos
The assimilation of periodical counter cultures into the tradition
Theoretical and methodological approaches to the periodical as counter culture and as establishment
The agency of periodicals at threshold moments of social, political, and cultural change
Illegal and underground publications
The interplay between established periodicals and radical newcomers
Change and disruption in the history of long-standing periodicals
ESPRit encourages proposals that speak both within and across local, regional and national boundaries and especially those that are able to offer a comparative perspective. We also encourage proposals that examine the full range of periodical culture, that is, all types of periodical publication, including newspapers and specialist magazines, and all aspects of the periodical as an object of study, including design and backroom production.
Please send proposals for 20-minute papers (max 250 words), panels of three or four papers, round tables, one-hour workshops or other suitable sessions, together with a short CV (max. one page), to 2016esprit@gmail.com. The deadline for proposals is 25 January 2016.
.
.
Category:
Archived Call for Papers
.
Tags:

counter cultures, ESPRit 2016, European Society for Periodical Research, periodicals, protest literature