The academic year 2016-17 officially reaches its conclusion in two days time! Dissertations have been submitted and marked – exams have been sat, marked, and the BA exam board meets this coming Friday. Glasses will be raised and nibbles consumed at the Summer Party that evening (7th July) – do come along to the Keynes Library, 6-8pm, ideally with a bottle or some nibbles to share, and celebrate the end of the year!
*                            *                            *                            *                            *
In honour of the academic year coming to a close, this will be a particularly full posting! First up, I want to hand you over to Caroline South, who did her Graduate Certificate in History of Art here in 2014-15, and whom I got to know well as she took my level 6 option module, 'Eighteenth-Century Britain: The Arts in a Polite and Commercial Society'. Caroline has kindly written this piece for the blog, about what she's been up to since leaving Birkbeck, and about an exciting event she's organised for this coming weekend…
Caroline South on 'The Garden at War'
"Since Kate Retford immersed me in the eighteenth century, I have not looked back! The Graduate Certificate gave me the foundation to go on to take a Masters Degree in Eighteenth-Century French Art at the Courtauld Institute. Since completing that, I am now extremely fortunate to write for the Tate about J.M.W. Turner. I literally follow his pencil marks and travels by working through Turner's sketchbooks and watercolours at Tate Britain – the largest Turner collection in the world, consisting of over 32,000 works, of which only approximately 25,000 have, as yet, been catalogued! It is an exciting and fascinating role of analysis, research and interpretation.
As seems the case with many people in the arts, I have more than one job. I also work for a small arts company, Aganippe Arts (Community Interest Company). Like a lot of students at Birkbeck, I came from a different background, in that I was a lawyer for many years. This puts us in a position to pull previous experience and new knowledge together to offer a very rounded skill set, invaluable for multi-faceted roles such as that at Aganippe.
This summer we are proud to be putting on an exciting exhibition, and the Courtauld Symposium on 8th July, at the magnificent Stowe House, Buckinghamshire. The exhibition, entitled The Garden at War, features works by Nicolas Poussin, Claude Lorrain, Ian Hamilton Finlay and newly-commissioned work by two contemporary artists: Joseph Black and Antoine Espinasseau. For the symposium, we have gathered world-leading art historians to speak on the innovative theme of the exhibition: the eighteenth-century garden at Stowe as a conceptual garden of ideas. It promises to be a fascinating day, so please do come if you can! Follow this link for tickets. Thank you for your support."
*                            *                            *                            *                            *
We've been celebrating a lot in the department over the last couple of weeks. Last Friday, we toasted the triumph of not just one, but two more colleagues who have recently published monographs! Leslie Topp's new book has just appeared with Penn State University Press, in their Buildings, Landscapes and Societies series: Freedom and the Cage: Modern Architecture and Psychiatry in Central Europe, 1890–1914. Leslie's book builds on many years of extensive research, undertaken in archives and libraries across five countries, in order to offer an important reinterpretation of asylum architecture and design in Austria-Hungary around the turn of the twentieth century. During this period, psychiatrists and public officials looked to reinvent asylums as large-scale, totally designed institutions, that offered a level of freedom and 'normality'. This is the "caged freedom" evoked in the title of Leslie's book, as these institutions presented a sense of liberty, through designs such as loosely connected villas, even as they exercised careful social and spatial control over patients. I didn't spare Suzannah Biernoff's blushes when I cited one of her reviews last time, and I shall now proudly quote Professor Kathleen James-Chakraborty, of University College Dublin, on Leslie's new work: "An important and impeccably researched corrective to widespread assumptions about the relationship between space and power in the design of asylums and in architecture more generally".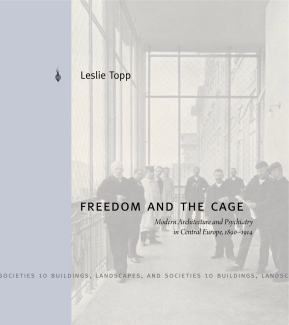 The History and Theory of Architecture as a field has been flourishing at Birkbeck for some years now, headed by Leslie and a number of other colleagues, including Tag Gronberg and Zoë Opačić for History of Art. The Architecture, Space and Society Network – a key hub for scholarship in the areas of architectural, design, and landscape history, contemporary architectural humanities and archaeology – became a Research Centre in 2015. Then, last year, we were delighted to welcome Mark Crinson as a new Professor, to work with these colleagues in deepening and expanding our teaching and research in this area still further. Mark has been on leave this academic year, awarded a Senior Research Fellowship by the British Academy and the Leverhulme Trust, to work on book project entitled Shock City: Image and Architecture in Victorian Manchester. He will be joining us as part of the active teaching team this coming Autumn, and we're excited to be offering his two new option modules: 'Concrete and Flesh: Modern Architecture and the Body' for Graduate Certificate and Level 6 BA students, and 'This is Tomorrow – Architecture and Modernity in Britain and its Empire, 1930-60' for MA students in the Autumn term.
Mark's new book – which we celebrated alongside Leslie's publication – is entitled Rebuilding Babel: Internationalism and Modern Architecture. It explores the extent to which modernist architecture was inspired by the emergence of internationalism – by the ethics and politics of world peace, justice and unity through global collaboration. The book's title refers to the ideals represented by the Tower of Babel – built, so it's said, by people united by one language. The 'International Style' was one manifestation of this way of thinking, but Mark is keen to show how the aims of modernist architecture often engaged with the substance of an internationalist mindset in addition to sharing surface similarities. The book features the work of the visionaries of internationalist projects – Le Corbusier, Bruno Taut, Berthold Lubetkin, Walter Gropius and Mies van der Rohe – and explores that work within a rich and diverse socio-cultural context. Here's praise from Anthony Vidler of the Yale School of Architecture: "Mark Crinson's wide-ranging analysis proves a significant addition to the history of architectural modernism and its strange association with internationalism in the first half of the twentieth century. In unravelling the untold story of these two unlikely partners, he also offers constructive thoughts about their future."
The other celebration recently was at a departmental meeting, when my colleagues very kindly marked the end of my term as Head of Department. As many of you will know, at Birkbeck we operate the system in which an member of academic staff will take on the role for a three year period, before handing it over to a colleague. I officially step down at the end of this month, and I am delighted to be passing the job onto Leslie Topp, who I know will offer wonderful leadership to the department in the coming three years. My time has Head has, unsurprisingly, had some stressful moments (!), but it has been an honour to oversee the department at such an important time in its history, during which we have appointed two new Professors, Mark Crinson and Steve Edwards, to expand our teaching and research in Architecture and Photography. I've been privileged to witness so many other positive developments, it's hard to know where to start! We received a generous donation to fund our Wallace MA studentships, and our ties with the London Art History Society have become productively closer, resulting in very welcome initiatives such as the Research Fund which now supports the work of our MA and MPhil/PhD students. We've expanded our portfolio of programmes, launching a new BA pathway or joint degree every year over the three year period. There's the Careers and Employability programme I wrote about last week – and, of course, this blog!
More or less every two weeks during term time, for three years, I have posted here – writing about and featuring pieces on staff research, events, the activities of our students, and our annual field trips. It's been a lot of fun doing the blog – but it's also underscored my deep belief in and enthusiasm for the work done by the staff and students here. Thank you to those who've guest-written for me – and thank you to everyone for reading! Leslie will be taking over the blog, as well as the headship, in the Autumn, and I look forward to keeping up to speed with the latest news during the period of research leave I now have coming up. I will, however, pop back, to join in the upcoming events organised for 2017-18 to celebrate the department's 50th anniversary. The theme of the celebrations is 'Opening up Art History', celebrating the way in which this department has offered, and continues to offer, life-changing, eye-opening access to the subject, as well as producing cutting-edge research which has consistently opened up the field to other disciplines, other media, and various social and political contexts. We kick off with the Peter Murray Memorial Lecture on 30th November, being given by Dr. Gabriele Finaldi, Director of the National Gallery. We also have a series of four public workshops in the Spring term (23rd-24th February 2018), exploring the future of Art History and Museums, as well as an exhibition in the Peltz Gallery. Celebrations will draw to a close with a garden party in Gordon Square on 29th June 2018. More details will follow in due course – and I look forward to returning to join you all at these events, as we celebrate 50 years of History of Art at Birkbeck!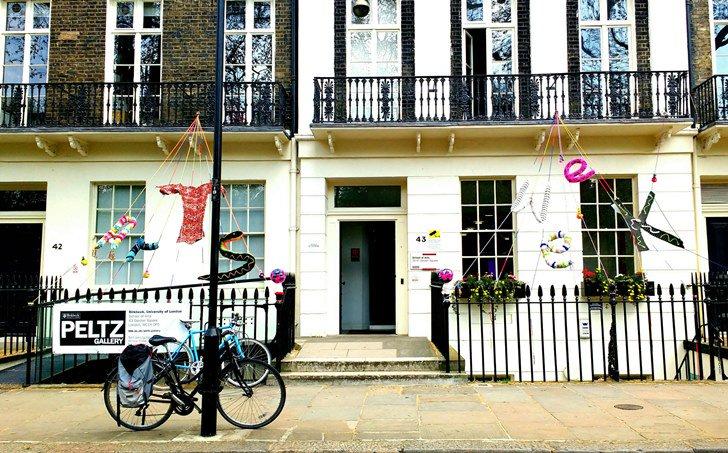 .
.
Category:
Uncategorized