Two days until the end of term – ten days until Christmas day – and I imagine everyone reading this feels well and truly ready for the upcoming break! Final classes are being attended, and essays are being uploaded at regular intervals onto Turnitin. However, I would thoroughly recommend taking ten minutes out, as soon as you're able, to watch the new film about the Open House London weekend which has just been uploaded to our website. Back in mid October, I wrote about the third opening up of the School of Arts building for Open House London, and Michael Clegg, who has just finished his MA with us, and who acted as a student volunteer during the event, contributed a lovely piece to tell us all about it. I mentioned at the time that the Derek Jarman Lab – based in the School of Arts – were working on a film, about the building and the tours that weekend. I got to watch it for the first time the other week, and it's truly wonderful. You can listen to Leslie Topp, Patrizia Di Bello, and Victoria McNeile (who did her PhD in the English and Humanities department here) talking about the Bloomsbury area – the townhouses we work and study in – their most famous inhabitants, the Stephens siblings – the paintings by Vanessa Bell and Duncan Grant – and the life and work of Virginia Woolf. Their discussion ranges across architecture, space, social status and gender. There's also a fascinating interview with Andy MacFee, the lead architect on the Cinema, describing how that multi-coloured, geometric part of our building was inspired by Virgina Woolf's famous 'stream of consciousness'. And the Derek Jarman Lab has contributed some lovely pieces of film, not to mention some nifty graphics, so that it's impossible not to be reminded how lucky we are to be based here. I've been at Birkbeck for more than ten years now, and thought I knew a lot about 39-47 Gordon Square – but there was so much in the film that was new to me. Truly not to be missed!
I know most of us are struggling to think beyond Christmas, but I do have some important dates for your diaries….
First of all, I am delighted to announce that we have finished organising the next stage of our Careers and Employability programme for History of Art students in 2016-17. This, as I mentioned in a previous blog, will consist of a number of masterclasses with alumni, who have kindly agreed to come back and chat about their career trajectories: what they do, and how they got there. We will be circulating Eventbrite links in the near future, but do please make a note of these sessions: –
Monday 13th February 2017, 6-7.30pm, Keynes Library: come and meet Sonia Solicari, currently Head of the Guildhall Art Gallery, following curatorial positions at the V&A. However, in the new year, Sonia will be taking up the prestigious post of Director of the Geffrye Museum, on the retirement of David Dewing.
Tuesday 21st February 2017, 4-5.30pm, Keynes Library: a chance to hear from Alice Payne, Head of Content at the Public Catalogue Foundation (Art UK). Alice has project managed the development of the Art Detective website, the build and rebrand of the Art UK website, and is currently project managing an audience broadening initiative.
Tuesday 28th February 2017, 7.30-9pm, Keynes Library – come and meet Jacqueline Riding, freelance art historian, author and historical consultant. Jackie has recently published a book about the Jacobite rebellion of 1745 and, having worked on Mike Leigh's award-winning Mr Turner film, is now advising on his upcoming film, Peterloo.
These events will all be free. And you'll notice that, in recognition of the fact that there is no ideal timing for 'extra's at Birkbeck, we've gone for a range of options: one session in reading week; one session before teaching starts at 6pm; one session after most classes end at 7.30pm. Hopefully at least one of these will work for you! We're very grateful indeed that Sonia, Alice and Jackie have agreed to take time out of their busy schedules to come and speak to us about their fascinating jobs, and how their studies in the History of Art have helped them to advance their careers -so please do make the most of this opportunity. And don't forget about the ongoing Careers and Employability workshops: next up is 'The Value of Internships', on 8th February 2017.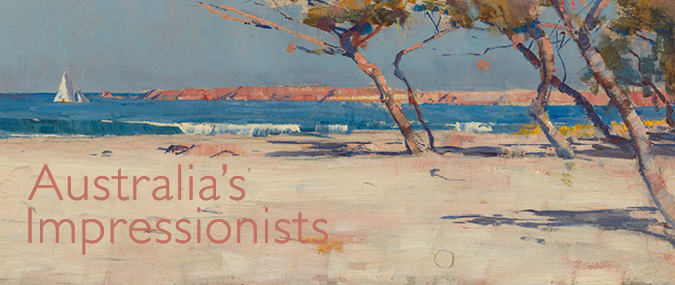 The other date I'd recommend getting in your diary is a lunchtime talk by our own Sarah Thomas at the National Gallery: 1pm, on Monday 30th January. Sarah's lecture will be on the subject of 'Australian Impressionism: National Art in a Global Context', given to coincide with the Gallery current exhibition, Australia's Impressionists. Before joining us at Birkbeck, Sarah worked as a curator in Australian art museums for many years, and so is very well placed to speak on this subject! The exhibition is definitely at the top of my 'to do' list for the Christmas break. I got to visit Melbourne and Sydney for the first time in September, and was fascinated by the work of the late nineteenth-century/ early twentieth-century artists Tom Roberts, Arthur Streeton and Charles Conder, which I hadn't encountered before. These painters sought out subject matter that was considered uniquely 'Australian' – in particular, the pastoral and bush landscapes of New South Wales and Victoria, and the resilient and hard-working pioneer settlers who inhabited them. They played a key role in constructing a national identity in the years leading up to Australian Federation in 1901. But Impressionism was a global movement, and the work of these artists was deeply beholden to European modernism. Sarah's lecture will examine the tensions between this emergent nationalism and a broader global consciousness. It is free, and all are welcome!
*                             *                             *                             *                             *
Finally, before I sign off, I am delighted to be able to fulfil a promise made in my last blog: to tell you more about Isobel Elstob's recent trip to Montpelier, to speak at a conference on Traces and Memories of Slavery in the Atlantic World. I hope many of you have got to meet Isobel since she joined us in October, covering for Suzannah Biernoff who is currently on research leave.
Isobel Elstob, Traces and Memories of Slavery in the Atlantic World
"Last week I attended the interdisciplinary conference Traces and Memories of Slavery in the Atlantic World at Montpellier University. A wonderful city, woven through medieval cobbled passageways and neat nineteenth-century boulevards, Montpellier offered an ideal setting for our discussions on the situation of the past in the present.  Scholars from France, Gabon, the United States, Haiti and Britain, working across literature, history, the visual arts, anthropology, ethnography and linguistics, asked the question of how we go about the task of memorialising events as traumatic as the Atlantic Slave Trade and, indeed, what might the effects of such memorialisation be? My own paper examined well-known visual artworks by contemporary artists Carrie Mae Weems, Glenn Ligon and Lorna Simpson that represent (or re-present) slavery histories ‒ and enslaved people themselves ‒ through the application of an African American linguistic model, known as signifyin'. Across the course of my research into these works what has become most apparent is how these artists construct a visual encounter between the past and the present ‒ forcing the viewer to confront the relevancies of history to our own, contemporary, attitudes towards 'race'. And this 'inter-temporality' also emerged as the most crucial common theme across many of the conference presentations. In the end, then, the question being asked was not so much about how we memorialise an extinguished historical past in the present but, as the conference title so aptly describes, how do we acknowledge the traces of historical events that continue to reverberate through the cultures and experiences of people across the world today."
Another prime example of how our discipline, the history of art, can provide a way into some of the most pressing issues of our times – and how visual culture is a key medium for unpicking those complex, all-important interrelationships between the present and the past.
It just remains for me to wish you all a wonderful festive season, and a very happy new year – see you all in January!
.
.
Category:
Uncategorized