If you're starting a doctoral programme later this year, particularly if your institution is still facing COVID-19 restrictions, Ciara O'Brien has some advice.
First printed in nature magazine 6 May 2021. See here for original article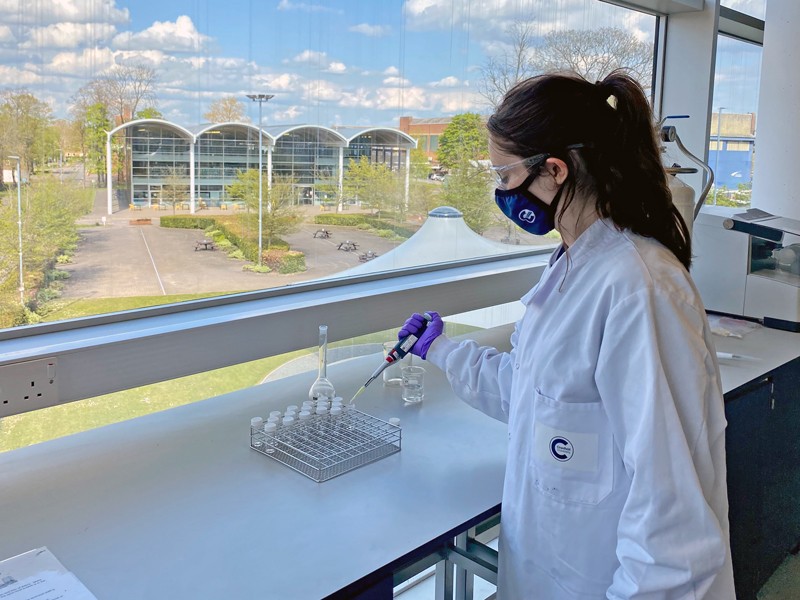 In September 2020, I started my PhD programme in plant science at Cranfield University, a postgraduate-only research institute in the United Kingdom. I struggled with many aspects of the transition from undergraduate to PhD study at the beginning — particularly with the added challenges of lockdown. With varying levels of restrictions still affecting many researchers, here are some of the things I learnt.
Manage your expectations when setting goals
I had grand expectations of what I would achieve in the first few months of my programme. I did manage to move from Ireland to the United Kingdom, and got myself set up at the laboratory — but I had also expected to have almost completed my first draft of a literature review, designed experiments and started my own lab work.Sign up for tips and tools to help you work smarter in the new normal
Those ideas were swiftly torpedoed. During month one, I did almost no science. I moved to a new country, which meant finding accommodation without viewings and opening a bank account without a credit history. This is normally difficult enough, but I couldn't visit banks in person and relied on automated systems. Thankfully, I moved before Brexit and didn't have to quarantine — but simple steps still took longer because of lockdown. I spent hours on the phone with the university's information-technology department, trying to acquire and set up a work laptop. Once I got it, I did an online safety-training course (only to find I had to redo it because my browser crashed and didn't save my progress) and filled out form after form to get my student number, student finance stipend and lab-access credentials.
Having not achieved anything resembling PhD research, I was terrified of letting my supervisors down right at the start. But when I spoke to them about my (minimal) progress in reading papers and designing experiments, they had anticipated that these tasks would take a lot of time and reminded me that although filling out every form under the sun might not feel like science, it is work.
Volunteering to help others helps you in the long run
Most PhD students will start at a university that is new to them, which means meeting a new set of supervisors, technicians, professors, administrative staff and more. Once you do get to know these people, it's a lot easier to know who to ask for what.
But it's more difficult to go through the 'getting to know you' process online. Volunteering to help out with 'dirty' jobs helped me to get to know people and brought me into the lab to meet others face-to-face. I also garnered favour among others in my team. I spent a week defrosting freezers, and another week moving sacks of potatoes from one room to another. I can't count how many hours I spent cleaning our lab equipment that had been in storage! But now, I know nearly all the technicians in my department — so asking for help or guidance is less daunting.
This also gave me a sense of 'family'. Lockdown meant that numbers in the lab were kept to a minimum, so I didn't meet many people as 'organically' as others might have in normal circumstances. I also couldn't travel home without putting my family at risk. Christmas would have been unbearable if not for the people I met in my first few months, and now we all have a support network.
Take ownership of your project
Just before I started my programme, my supervisor sent me the grant application she had used to get funding for my project. At first, I stuck to it like scripture, focusing mostly on the references used in the application rather than getting a feel for the field in general. Even when some parts of the project didn't fit with the others, or I found gaps in the literature that I could and wanted to address, I didn't have the confidence to claim ownership of my project.
But as I started to design experiments and develop hypotheses, I wanted to delve deeper into some aspects of the project and scrap others. Some of the proposed experiments were just not attainable with the allotted time and resources, and once I explained why to my supervisors, they were really supportive of my changes. One of the initial goals of my project was comparing harvest times of fruit, despite early- and late-harvested fruit being used for completely different purposes. My corporate sponsor, Orchard House Foods, doesn't work with one of these harvests, so I would have had to source options from different farms just to do a study that has already been done several times. After three months, I finally asked whether it was really worth investigating this, giving my reasons, and we scrapped it.
Even though I didn't design my PhD project from scratch, taking ownership has allowed me to 'pitch' changes to both academics and industry partners and has been one of the most valuable skills I've developed so far.
Your style does not have to match your supervisor's style
My two main supervisors are food scientists Mari Carmen Alamar and Natalia Falagán. Mari Carmen is known for running around the lab and yelling everything, so you can always hear her coming. Natalia is calm and collected, keeping everything scheduled. If you set her lab coat on fire, she'd probably just take it off and get the appropriate extinguisher.Collection: the PhD
At first, I tried to mimic their styles as closely as I could, switching to match whoever was working with me at the time. I tried making lists and timetables in Natalia's style, but was adjusting the times so often that it was more complicated than winging it. If Mari Carmen ran, I ran after her — and couldn't last long because of my short legs. I needed more coffee than my heart could handle to match her intensity. This turned out to be a waste of energy spent trying to be someone else, when what I needed to do was accept my own working style. I still run, but only on rare occasions, and my to-do list is written on the back of my hand rather than scheduled in a diary. If you see someone with a working style that you like, adapt yours to include it. But, just because someone is your supervisor, that doesn't mean you should model everything you do on the basis of how they do it.
Manage your expectations of yourself
When I first started my programme, I tried to work all day, every day — including weekends — thinking that's what was expected of me. From hearing presentations of other PhD students and seeing the work that goes into publishing a manuscript in a journal, I thought the only way I could keep up with people 'smarter' than me was to outwork them. Of course it wasn't, but I was comparing myself with an ideal that doesn't exist. This was made worse by not having much contact with people further along on their PhD journeys, because I was working mostly from home. Putting this pressure on myself was emotionally and physically exhausting, so, when I was getting constructive feedback, I took it as criticism instead of help. I expected myself to do things perfectly the first time. I didn't take breaks when I needed them, and ended up having to take longer ones later. Admitting to yourself, and your supervisors, when things are overwhelming early on will end up saving you time and sleep.
Always enjoy the small achievements
There are a lot of setbacks in a PhD programme, but there are just as many achievements. A presentation went well, someone complimented your diagram, you finished an hour early: these are all things worth celebrating as much as losing the post-it note you were writing on is worth stressing about.
I'm someone who worries about the little things — as much as I try not to — so making sure I am as vocal and celebratory over small achievements is important for my balance. Papers and grants are not the only things worth congratulating other people for, too. After finishing my first draft of a literature review (in month seven), I took a full day off to eat pizza and watch daytime television. And I will forever be keeping a pint of ice cream on hand to celebrate finishing that analysis or getting through a progress review.doi: https://doi.org/10.1038/d41586-021-01233-2
This is an article from the Nature Careers Community, a place for Nature readers to share their professional experiences and advice. Guest posts are encouraged.